Dan Gorsky Joins SCA Technologies as Executive Vice President and Business Unit Head, Food Sector
April 25, 2017 12:04 pm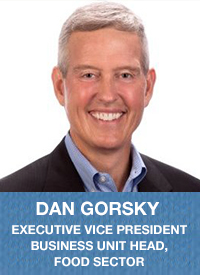 We are proud to announce the addition of Dan Gorsky as Executive Vice President and Business Unit Head, Food Sector. Coming from a robust career in the supply chain industry, Dan will provide unparalleled expertise in aligning SCA's solutions to meet our customers' evolving supply chain needs, driving new business and managing key accounts. It is with the inclusion of such distinguished supply chain professionals that SCA Technologies remains the industry leader, supplying its innovative, integrated platform for sourcing and supply chain management to restaurants, grocery retailers and food manufacturers throughout North America.
"As a long-time consumer of the platform, I have seen firsthand the significant and sustaining results impact of SCA's capabilities," shares Dan. "All supply chain professionals take great pride in what we do to add value in our unique environments. That's the beauty of the SCA platform – it leverages and builds upon the specific foundation of each supply chain, regardless of structure, to be a huge financial game-changer."
Dan brings decades of experience in managing complex and strategic supply chains along with the hands-on business experience of a seasoned operations executive. He held multiple positions at McDonald's Corporation, including Senior Director of Supply Chain, VP of Strategic Sourcing and the SVP of North American Supply Chain. In these roles, Dan oversaw all supply chain operations for the US and Canada, including supplier relations, strategic sourcing, sustainability and logistics. Most recently, he ran the operations of Special Learning, Inc., Chicago, Il. where he acted as the COO.
With Dan, we are proud to be able to supply our innovative approach to supply chain management to retailers, restaurants and food service operators everywhere!