Effective program execution requires collaboration across different organizations – marketing, demand, supply chain, suppliers, logistics, procurement, and menu management. With real-time collaborative and decision support systems, managers can improve supply chain delivery, and lower costs and risks. Managers, aided by real-time tools, refine decisions as the program evolves. They can also build shared risk reward programs by using the tools to better manage risks and costs. The result is consistently better execution in terms of delivery, lower costs and risks.
Improving value offerings at the store with continuous real-time planning
One restaurant company developed new supply plans and price agreements in SCA PlannerTM to support their multi-channel strategies. To build the plan, the team put together assumptions around demand, costs and combined it with factors such as capacity and performance metrics. The system utilized the assumptions and helped managers to finalize supply plans and prices in the supply chain.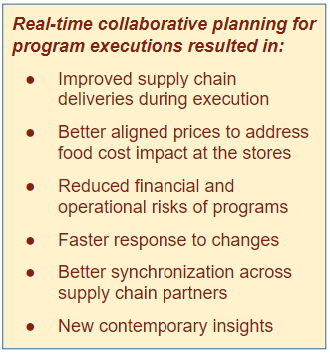 As the program reached closer to execution, the assumptions were updated and the system alerted managers to material variances from the plan and assisted them to explore revised supply plans and price opportunities. During execution, the demand forecasts exceeded in some segments and fell short in the other segments. Within days of the revised demand forecast, the team revised the supply plan to address capacity needs while optimizing total supply chain costs and then revised prices based on the latest information. The revised supply plan, costs and prices were aligned with the program as it rolled out.
The result was improved supply chain deliveries during execution, aligning the prices to address impact food costs at the store and reducing financial and operational risks of the program.